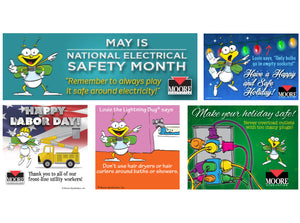 Upgrade Your Social Media
Keep Customers Engaged with Louie and Sniffy Social Media Posts
Licensees of the Louie the Lightning Bug® and Sniffy® program may add an optional social media licensing package to receive a series of ready-made social media posts. The posts feature the safety characters and colorful artwork to create fun and memorable safety communications that are sure to be forwarded!
Subscribers receive a total of 16 images featuring Louie or Sniffy for unlimited use on social media during the annual licensing period. This averages one per month plus four bonus images. Content may be chosen from a list of popular topics and includes one custom image if you need something that isn't in the list.
Pictures above include just a few of the possibilities. Your logo would be added in place of the Moore Syndication logo.
For more information, please contact Pam Moore at 205-871-8819.
---