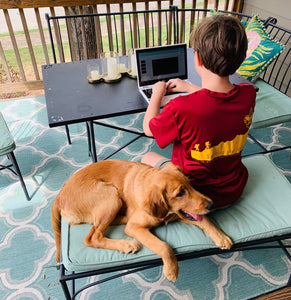 Maintain Safety Communications During Shelter-In-Place
Maintain Communications During Shelter-In-Place 
We are now living times most of us never imagined. In a few weeks that felt much longer than that, everything changed.
Shelter in place orders exist. Public gatherings are not permitted. This comes during what is normally an active time for utilities to educate the public at special events and school visits. Those aren't happening this spring.
But safety education is still important. Even with families at home now, safety hazards still exist for which people need safety reminders.
Safety education is a good way to promote your brand to keep it in the public's eye while demonstrating that your company cares about the public. And it continues to demonstrate due diligence for your company.
​Strategies for Communication While the Public Isn't in Public
Rely on web-based resources. In many households, parents have suddenly become teachers. Teachers always welcome additional educational resources, and people who don't come from a teaching background need assistance to engage children in learning while there is no school. 
If you have educational content on your website, make sure the new homeschool educators know about it. If you have a teacher email list, send an announcement to the teachers so they can inform parents how to find your information.  Moore Syndication recently sent email blasts to teacher email lists on behalf of a few of our website subscribers, and those companies have seen spikes in web traffic.
If your site doesn't include  educational content Moore Syndication offers Electric Universe for topics related to electricity and Energy Underground for topics related to natural gas. 
Rely on social media. With people spending more time on phones and computers, social media platforms such as Facebook or Instagram are fantastic ways to reach the public to continue your communications.
Prepare now for later. We all hope this is going to end sooner than later. Plan programs now so you can hit the ground running when public events are once again safe to attend. 
As part of your planning, make sure you're stocked up on materials you'll need.  Once public events resume, your suppliers will likely have a sudden surge of orders with deadlines. Check your stock on items you know you'll need later and beat the backlog if you are running low.​
Examine your messaging. Make sure your messaging addresses concerns applicable to our current state of affairs and adjust accordingly.
Children are indoors more now, so it's important to address topics such as cord safety, overloaded outlets, cooking safety for gas stoves, and how to detect a potential gas leak.
When children are outside, it's generally around the immediate area of the home. This makes it important to include pad-mounted transformers and gas meters in your safety messaging.
With adults at home more, many are tackling the projects they've put off. Now is a good time to remind adults about keeping ladders and tools away from service drops, and the importance of keeping flammable materials away from the furnace or gas water heater.
Storm season is just around the corner, so downed power line messaging is an important topic.​
We'd like to keep these topics for utilities a running conversation. If you have thoughts to add or experiences to share, please let us know, and we'll add it to our running blog posts.
---