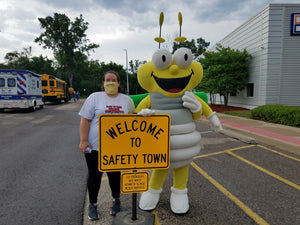 Louie Represents DTE Energy & Eastern Michigan University
Operating under a grant from DTE Energy, Eastern Michigan University's Louie the Lightning Bug® made adjustments to the summer season given social distancing guidelines and new safety measures, but he still visited sites throughout Southeast Michigan to deliver important electrical safety instruction. 
This is a photo (courtesy Dr. Anita Rich / Eastern Michigan University) from Ann Arbor from the first ever drive through Safety Town where local youths saw safety vehicles, picked up Louie coloring books and other materials. Visitors were given links to Louie instructional videos and had a chance to interact with Louie and his human partner.  Kisses were thrown from vehicles, and there were lots of waves and air hugs!
---